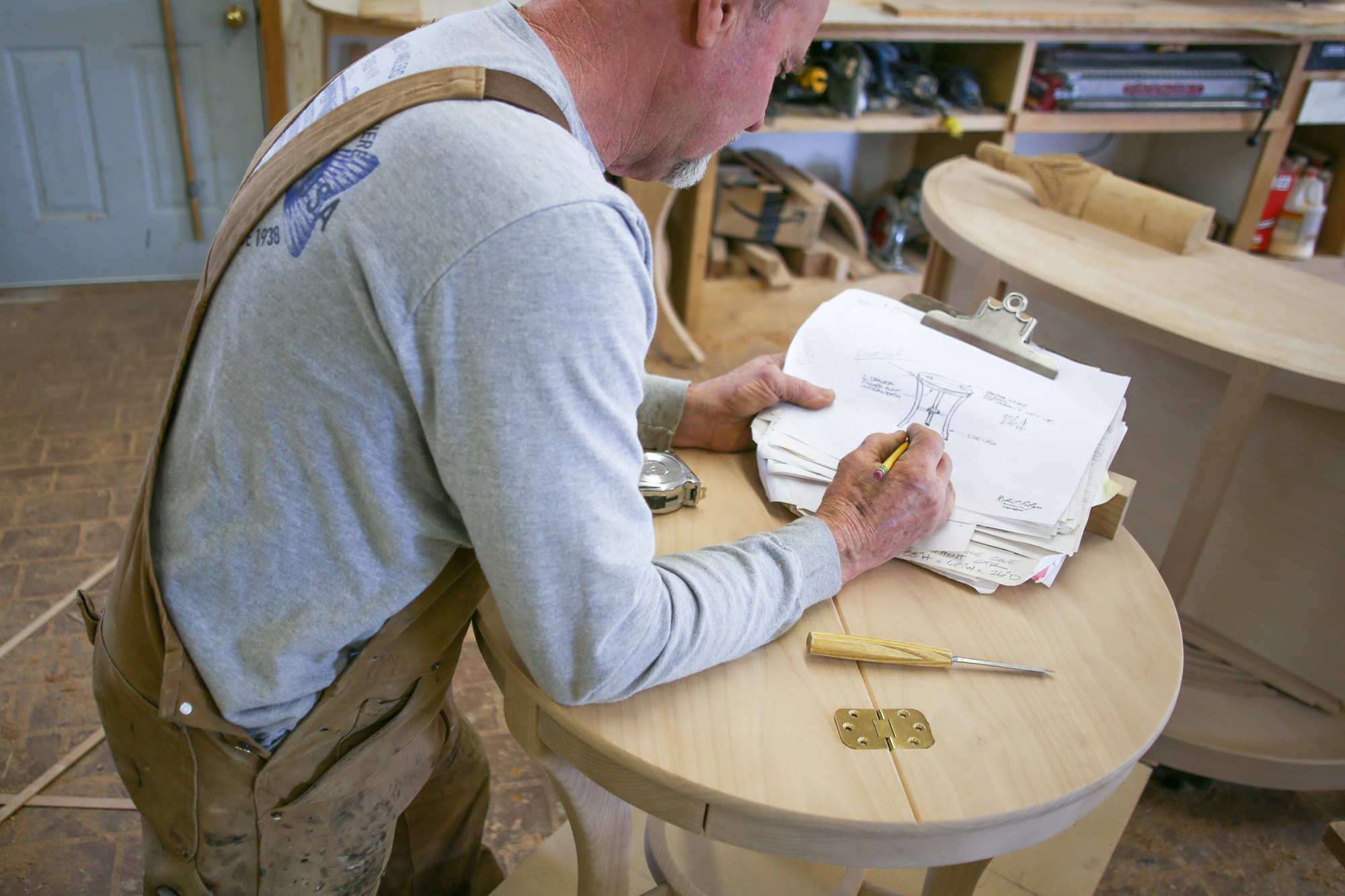 Robert Seliger sketches each furniture design by hand. Clients often review two or three rounds of drawings.
Design
Seliger's furniture designs are an artistic interpretation of a client's vision or idea.  Seliger sketches concepts by hand, and the drawings are sent back and forth for revision and refinement. This process gives clients unique involvement in the design phase, which also entails taking the client's measurements to tailor pieces like chairs or desks to the client's frame.

Seliger uses traditional joinery techniques.
Construction
Once the conceptual design is finalized, Seliger sources the wood, often traveling to the foothills of the Willamette Valley to select trees from forested plots. Back in the workshop, Seliger teases beautiful curves and forms from the wood. A consummate craftsman, he uses traditional joinery for stability and also as a design element. The result: sturdy heirloom pieces that are also beautiful works of art.
Some of Seliger's designs call for unique details. His wife, Kathy, often lends her artistic talents to projects by carving or painting designs by hand.

Seliger's hand-rubbed finishes typically require 8-12 steps.
Finishing
Once the piece is built and sanded, Seliger begins the labor-intensive process of staining and finishing. Seliger has developed a wide variety of finishes to bring out the depth and beauty of each piece. His finishes have earned him a strong reputation among designers. Seliger applies each layer by hand, responding to the wood and working his "canvas" until he is satisfied.
Seliger gives a chair one last polish before sending it to a client's home.
Final Details
After the finish has cured, there are often a few last steps before the piece is complete. Chairs are sent out to a highly-skilled upholsterer. Local craftsmen create custom hand-forged drawer pulls or carve special embellishments such as flint arrowheads.
Seliger confesses he has a deep emotional attachment to every piece that comes out of his workshop."There is definitely a part of my heart in soul in every piece of furniture I make." From the initial sketches to the finished table, chair or desk, Seliger often labors hundreds of hours to take a client's idea, add his own artistic interpretation, and carefully craft a family heirloom.
Seliger includes a special bit of provenance with the finished piece: the signed, framed sketch that was approved by the client.